IDALSA develops and produces 100% green, 100% sustainable, recycled aluminium solutions. To carry out its activity, the company's processes are subject to strict quality controls and monitoring, necessary to guarantee and safeguard environmental conditions through the correct management of waste. IDALSA develops and produces 100% green, 100% sustainable recycled aluminium solutions with its own technology.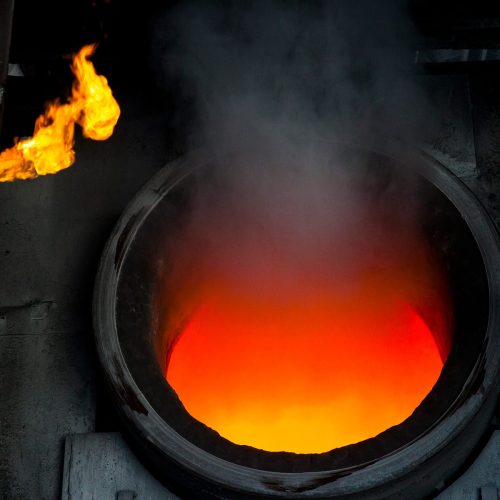 IDALSA recycles aluminium of different alloys from industrial and consumer use. Scrap from industrial use are the surplus that could not be used in the production processes, such as offcuts or slag. Consumer waste are those ones coming from soft drink cans, food and pharmaceutical containers and packaging, etc.

Reception of raw material (aluminium) for its recovery.

Treatment and classification of the recovered scrap according to the characteristics and alloys of the aluminium, depending on the final destination of the product.

Pre-treatment of the scrap to ensure correct cleaning prior to smelting.

Smelting of waste according to B.A.T. (Best Available Technique, in terms of CO2 emissions, according to European Union guidelines).

Moulding and certification of the finished product for its different applications.
100% GREEN, 100% SUSTAINABLES
The products that IDALSA offers to the market can be found in various formats and with a wide range of chemical compositions, a clear common denominator; 100% green and sustainable products.
IDALSA products can be offered in 3 formats:
1. ALUMINIUM INGOTS of 10 kg.
2.ALUMINIUM SEMI-SPHERES of 250 gr.
3.ALUMINIUM PYRAMID STONE 50 gr
Depending on the alloy, the
product

will have a different final destination

AUTOMOTIVE
Engines, gearboxes, transmissions, pistons, water pumps, rims, specific support parts such as rear-view mirrors...

OFFICE FURNITURE
Furniture, chests of drawers, lockers, etc.

DOMESTIC RADIATORS

STEELMAKING
Aluminium is used as a deoxidising agent in the manufacture of steel. It is used to eliminate holes produced by gases, porosity and metal oxides.